OM Digital OM-1 Review: The Best Micro Four Thirds Camera Ever Made
I've been an Olympus and Micro Four Thirds user since I purchased a used E-M5 in 2016. I love Olympus, and like many others was sad to hear the news when the company's photo division came to an end. There was a lot of speculation and anxiety over what JIP would do with the business, but the rebranding to OM Digital encouraged confidence. Since then, I have eagerly awaited the new company's first camera. And now we have it: the OM System OM-1.
---
Special thanks to Lensrentals for providing some of the lenses used in this review. The company's full list of available gear, both for rental and for sale, can be perused on its website.
---
I've shot north of 150,000 frames across the E-M5 Mark III, E-M1, E-M1 Mark II, and Pen F — and this doesn't include some shorter-term use of numerous Panasonic bodies as well as the Olympus E-M1 Mark III and E-M1X. Over those past six years, I've always used Olympus cameras alongside Nikon full-frame, both of which have their own strengths and weaknesses, hence the reason I own both systems. Needless to say, I have a lot of experience with Olympus cameras.
The OM Digital Solutions (OMDS) OM-1 oddly retains the "Olympus" branding on the front and, even stranger, it will be the last OM System camera to do so, which makes it a little confusing as to what we should call the camera. Is it an Olympus? Despite prominently displaying the trademark name, it seems that it is just the "OM System OM-1." It's a rather clunky and awkward branding that evokes the image of a computer software company rather than a camera manufacturer. The OM-1 is a direct nod to the original Olympus OM series of 35mm SLRs and the enormously more simplified name is a welcome change — the former "OM-D E-M Mark so and so" was just cumbrous and inelegant. And I suppose the "Olympus" branding serves as a nice little farewell to that historic series.
Let's get the headline specs out of the way: 20.4MP BSI Four Thirds stacked Quad Bayer CMOS sensor without an AA filter, quad pixel AF with 1,093 cross-type focus points covering the entire sensor, up to 50 fps RAW with continuous AF/AE in blackout-free silent sequential mode and 120 frames per second (FPS) RAW with AF/AE locked, 5.76 million-dot OLED EVF with 0.83x magnification (full-frame equivalent), five-axis in-body image stabilization (IBIS) with up to eight-stops of image stabilization, improved IP53 rating with dust, splash, and freezeproof sealing, internal DCI 4K/UHD 10-bit 4:2:0 up to 60 FPS, FHD H.264 up to 240 FPS or H.265 up to 200 FPS, and DCI 4K/UHD4K 12-bit 4:4:4 ProRes RAW output.
Other computational features are of course carried over and, in some cases, improved from prior Olympus models — handheld high resolution, in-camera focus stacking up to 15 shots (or 999 without in-camera compositing), exposure bracketing, Live Composite, Live ND, Live Bulb, and Starry Sky AF. Live ND has been increased from ND32 (five stops) to ND64 (six stops). High-resolution shot processing is now 2.5 times faster and the TruePic X processor offers four times processing speed and 60 times computational power.
IBIS has been improved from 7.5 stops (with a compatible IS lens) to eight stops. Without an IS lens, it remains the same at seven stops, though the IBIS unit is 10% lighter as well as faster, meaning we should see improved hit-rates.
Design and Build Quality
The general design of the OM-1 is a relatively known quantity. If you've handled the E-M1 Mark III — or even the E-M1 Mark II — the new OM-1 will be very easy to adapt to as the general body design remains unchanged, with most of the same buttons and dials in the same locations. There's a new, very welcome AF ON button and the front and rear command dials are now recessed into the camera body rather than positioned on the top panel — I find this to be more natural and comfortable, but either way, it's very easy to adapt to for legacy Olympus users.
While it's not an overly dramatic change, the grip is now deeper and a bit taller. In doing so, OMDS has created what I believe is the perfect grip as far as mirrorless cameras go (not counting those with built-in vertical grips like the Canon R3 or Nikon Z9). It's tall enough now that all my fingers can fit, wherewith most other cameras my pinky always ends up cradling the underside of the camera. It's also deep enough that most of the time I found myself just carrying it around one-handed — even with larger lenses — and never found myself with a cramped hand afterward. Quite simply, the handling is as nice as I have ever used with a mirrorless camera.
We now have a significantly higher resolution OLED viewfinder: 5.76 million-dots with a 0.83x FF-equivalent magnification and 120hz refresh rate, up from the 2.36M dot OLED/LCD* in the E-M1 Mark III and E-M1X. The E-M1 viewfinders always lagged the nicest Panasonic EVFs (let alone those in full-frame cameras), but we finally have one that's just as good, if not better. Color, contrast, and clarity are all excellent, with virtually no discernible lag.
*There is some confusion on whether the prior Olympus models used OLED or LCD — the Olympus website specifies OLED, but other websites and vendors indicate an LCD viewfinder.
I really want to see a firmware update that implements the ability to use the EVF only (with auto eye-sensor) but still allows the rear LCD to be used for menu and playback. This is something that no one seems to get right except for Nikon — the "Prioritize Viewfinder" setting in the Z cameras is exactly what I'd like to see every mirrorless manufacturer offer. It allows the EVF to remain off until it's raised to your eye (thus saving battery), and the LCD monitor is used solely for menu/playback — just like a DSLR. Not only is this extremely fluid in use, but it's also a big reason that I can get thousands of shots out of a single charge on those cameras.
An Updated Menu
Sony menus have long taken a hit for poor design, and there's some validity in those complaints. But (and I say this as a years-long Olympus user), Olympus menus have long been in need of an overhaul. Frankly, they're a mess. Or rather, they were.
OMDS has completely redesigned the menu with the OM-1 and it was one of the first things (obviously) that I noticed about the camera — and boy do I love it.
The layout is now horizontal instead of vertical, which is the opposite of what I'm used to with my Nikon cameras, but it works very well for me. The reorganization is logical, easy to understand, and easy to adapt to, and nothing seems to be buried in a cryptic, labyrinthian maze anymore. The camera will even tell you why some items are greyed out if they are, which is nice because other cameras would rather leave it to you to figure out like a game of Pictionary.
You can navigate the topmost main tabs using the front control dial, then shift through the submenus with either the rear command dial or the four-way directional pad. It's remarkably easy to adapt to and very quick to use once you do. Adding (or removing) your most used functions to the My Menu tabs is as easy as holding down the Record button for about a second — this allows you to put them in whatever order you want.
The Super Control Panel still exists, but with no real tangible differences that I can see. While many people love that panel, it really needs to be customizable so we can have something like the Quick Menu of the Nikons or the Q menu of Fujifilm cameras. My Menu is great, but it still requires you to menu dive and scroll through tabs. I'd really love to be able to customize the Super Control Panel — I don't need instant access to half of the settings in there, but there's no way to replace them with settings that I do want quick access to.
It would be nice to get a firmware update that brings this new menu system to older cameras like the E-M1 Mark III, E-M1X, and E-M5 Mark III, but there is not telling if this is actually possible. Sony, for example, wasn't able to do it with its improved menus, so maybe it's harder to do than it sounds.
While the menu is better, it's not without its flaws. One of the biggest changes OMDS needs to implement in the menu is one that has forever plagued every Olympus menu since the original E-M5: the Auto ISO options suck.
They are horrible. Here we have the best IBIS of any camera in the world, and yet our auto ISO options are either "auto" (which defaults to 1/full-frame equivalent focal length) or a single chosen shutter speed.
Say we have a 25mm lens on the camera. Our two choices are: set to auto (1/50 second) or pick whatever shutter speed we want. The first option means we're wasting the best image stabilization out there and the second option means we must change that setting every time we change a lens — not to mention it's also completely useless with zoom lenses. Do you set it for the wide end or the long end? It can only be one of them! It's actually pretty insane that a decade later, these are still our only options.
This is one of my biggest gripes with Olympus (and now OMDS) cameras, and it actually results in me changing the way I shoot because of it — I'll often go into shutter priority mode just use slower speeds and make use of the camera's amazing IBIS.
A New Quad Pixel Stacked Sensor
Update 03/31/2022: A previous version of this review referred to the OM-1's sensor as "Quad Bayer." This is not exactly correct, though the technology is based on the Quad Bayer sensor. "Quad Bayer" is Sony Semiconductor's name for a Bayer pattern sensor with 2×2 pixel blocks of each R, G, or B color, all four pixels of which have their own microlens. The OM-1's sensor features the same underlying technology, but with one microlens per 4-pixel square. This technology is called 2×2 OCL (On-Chip Lens) by Sony Semiconductor.
With the OM-1, we now have a sensor that is both backside-illuminated (BSI) sensor and stacked. The former should afford some light-gathering improvement, while the latter gives us some incredible speed, though usually at the expense of some dynamic range. This is the first time we've seen either of these features inside of a Micro Four Thirds camera, let alone at once. All of this is very welcome given that these features have been available in full-frame cameras for the better half of a decade.
Let's start with what I wish had been different: The base ISO is still 200 — I was hoping to see a base ISO of 100, to get us a bit closer to bridging the gap between Micro Four Thirds and APS-C or full-frame at the lowest ISOs. We're still at around 20 megapixels, which, while I know was a disappointment to many, is totally fine by me. Perhaps I would have liked to see a bump to 24 megapixels, the actual linear difference between 20 and 24 megapixels is very small (about 11%).
The sensor is unique in another way: it's the first quad pixel sensor to hit the market in a large sensor (>1 inch) camera — though there's some evidence the Sony Alpha 7s III uses a quad Bayer sensor (though not quad pixel AF). If you're wondering why this matters, I'll briefly explain what a quad pixel sensor is.
In short, the sensor itself actually has about 80 million pixels, with one microlens per 2×2 pixel cluster. In the end, these four pixels are then combined into one, giving us roughly 20 million pixels in the final image. The biggest obvious benefit in the case of the OM-1 is the "quad pixel AF." Those extra pixels can be dedicated to capturing 100% of the phase-detection data. The typical approach is to dedicate a certain number of pixels across the sensor to autofocus and mask them off; this usually results in less than 5% of that data being captured. Quad pixel AF essentially allows every pixel to contribute to autofocus, thus improving accuracy at every location since it now has dual cross-type focus points — because a single line AF point can only capture focus in one dimension, having points that can detect focus in horizontal, vertical, and diagonal axes results in extreme precision and speed.
Promised Performance
The OM-1 is capable of 50 frames per second RAW with full-time autofocus and autoexposure, or 120 frames per second RAW with AF and AE locked — both using the silent electronic shutter. This suggests the sensor readout is somewhere around eight milliseconds or about 1/125 of a second. While that's much faster than most cameras on the market, it's still bested by the full-frame Sony Alpha 1 (1/200 readout), the shutterless Nikon Z9 (1/270 readout), and even the much older Sony Alpha 9 (1/160).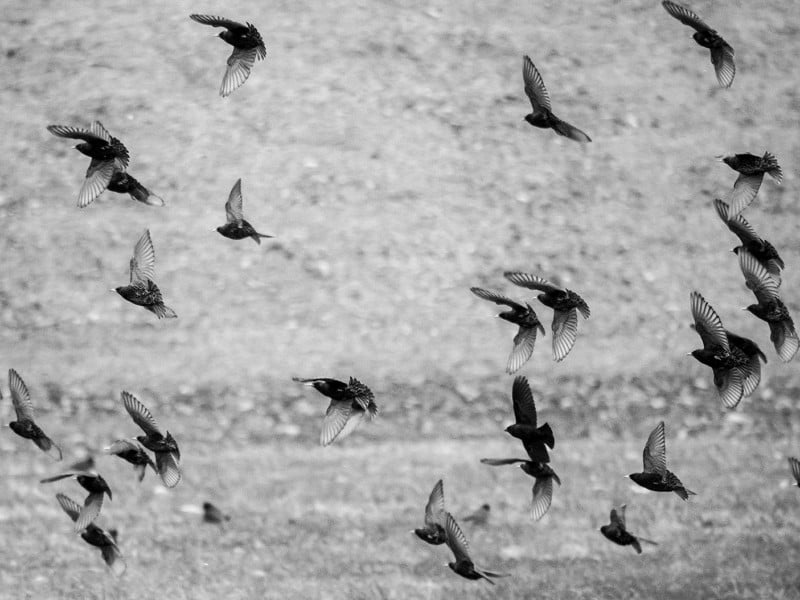 It's disappointing to see a readout speed that's half of what some full-frame sensors are capable of, however, this is no doubt a result of the camera needing to read out a massive 80 million pixels. No matter the reason, it's fast enough for 99.9% of photographer's needs, but some sports or wildlife users may see some readout distortion depending on the type and speed of their subject (for example, a golf club in the middle of a swing).
I was also hoping to see an improvement with the mechanical shutter. We're still at 10 frames per second with AF/AE — Canon has been capable of 20 frames per second since the 1DX Mark III, and the OM-1's focal plane shutter only has to traverse about half the distance of that sensor. If the electronic shutter readout were fast enough, this wouldn't bother me — but it isn't, so it does.
One of the new highlight features in the OM-1 is the AI subject detection modes. There are now options for cars and motorcycles, trains, airplanes/helicopters, birds, and dogs/cats. We've seen features like these in many recent Sony cameras, along with the Canon R3 and R5, as well as the Nikon Z9. But the question is, how well do they work?
Real World Shooting Experience
Let me be upfront and honest from the get: I do not consider myself a wildlife photographer, though I love to shoot wildlife when my time allows, and I'm certainly not a seasoned photographer for birds-in-flight. I learned fairly quickly how much skill and experience is needed to quickly follow the flight path of fast, erratic little birds — after all, the camera stands no chance if you can't even get them in the frame.
So, how well does the camera perform? The short answer: extremely well. It can quickly pick up on birds in the frame often before I can spot them. It tracks them with stunning precision (if you can keep up with the bird, that is — I'm still working on that part) and while it will occasionally jump from the bird to something in the foreground or background, it will snap back to the bird by the next frame. Considering I was shooting at 25 and sometimes 50 frames per second, this means a huge keeper rate.
The biggest issue I discovered is that the camera has problems with branches if they're in front of your subject. It really wants to focus on those branches instead of the bird (or whatever it may be). I understand why — we're talking about animals of very, very similar luminance values and of very similar color (usually), but the best options from Sony, Canon, and Nikon are still a step ahead here. Once it locks on, though, it'll stay locked on. But I did miss a decent number of shots because it was more interested in the branches between the subject and the camera.
It's worth noting that performance depends on the lens you use. While the absolutely phenomenal Olympus 100-400/5-6.3 IS performed spectacularly (especially with the focus limiter engaged), the much cheaper Olympus 75-300/4.8-6.7 II can't keep up as well with the camera's insane frame rates and AF abilities. It's still a stellar performer — and you won't find a 600mm equivalent lens in a tinier package — but I guess it's also less than half the price of the 100-400 for a reason. It's actually quite impressive how many lenses are capable of keeping up with 25 frames per second given that they were never designed with that in mind.
The Pro Capture modes are incredibly useful once you get used to employing them properly. For those unfamiliar with the feature, the camera will continuously record images to the buffer as long as you have the shutter half-pressed, and then once you press the shutter, it will write a pre-determined number of images from before you pressed the shutter button, as well as some frames after you release the button. The number before and/or after is entirely up to the user; I set mine to only record before frames and none after. This was very helpful as I was watching a duck that would dive underwater and I had no idea when it would resurface. I could keep focus locked on that point and once the duck resurfaced, hit the shutter button, which would then save the set number of frames from before I hit the shutter. In essence, it allows you to capture the action without knowing exactly when that action will occur.
With this Pro Capture mode, your buffer depth does not take a hit — I don't know if there's some kind of ancillary flash memory that's used specifically for these images or what, but either way, it has no effect on how many frames you can shoot once you press the shutter button. It's not an appropriate feature for many situations, but when employed correctly, there's really nothing else that can do what it does with such simplicity and ease.
On the topic of the buffer. It is… small at only about 90 RAW frames (and strangely also 90 RAW + JPEG frames). As you might guess, at its maximum speed of 50 fps (with AF and AE, that is), this means about two seconds of shooting will fill it to capacity.
Once the buffer fills, it takes 27 seconds to fully write all 90 RAW images — this is using a SanDisk Extreme Pro UHS-II V90 300 MB/s card (128GB). If you shoot RAW + JPEG, it will take 38 seconds to completely empty the buffer. I used a ProGrade V60 SD card alongside the V90 — there's no discernible difference in use, but I'm also not a button masher.
Update 04/01/2022: The buffer test was conducted with "Detail Priority" enabled. When set to "Drive Priority," the buffer will clear entirely in eight seconds to the same SanDisk V90 card."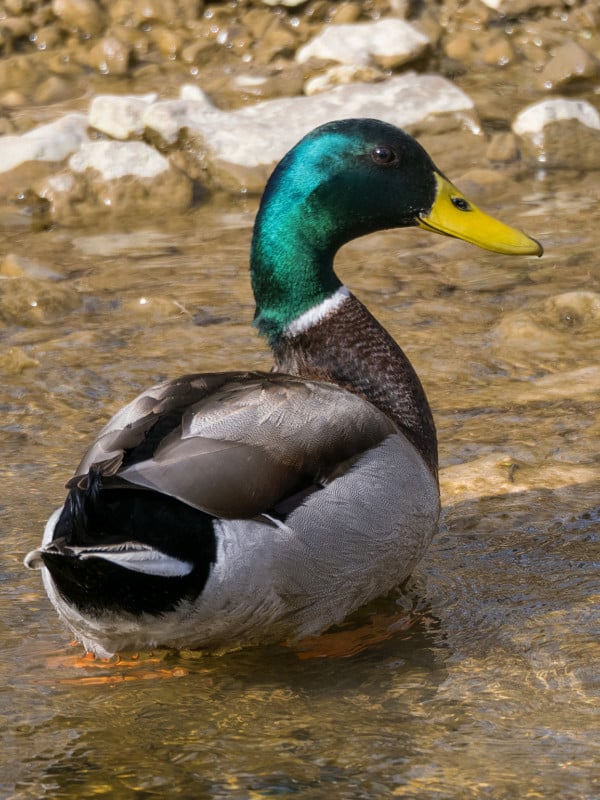 This brings me to something else I wish had been done differently: even the fastest V90 UHS-II SD cards aren't sufficient for this kind of speed. The camera really needs at least one CFexpress card slot — it certainly seems big enough that it could fit a CFexpress Type B and a UHS-II SD slot, but even if that isn't the case, OMDS could have gone the Sony route with two CFexpress Type A/UHS-II SD combo slots. Sure, CFexpress Type A cards are still very expensive, but at least the option would be there for those who really need it, and easily ignored for those who don't.
RAW Image Quality
OMDS made a big splash with the announcement of the OM-1, notably with claims of two stops of noise improvement and an extra stop of dynamic range. Then, of course, we found out the sensor was not only stacked but also BSI. Suffice to say, there was quite a bit of back-and-forth throughout internet forums as to whether the OM-1 would deliver on these promises.
So, does it? That depends on how you look at it, but in my opinion, no. There are definitely numerous improvements in IQ, and while none of them are major, they add up to a noticeably cleaner, more malleable file. Quantifying a sensor's dynamic range (DR) is not a simple matter — not only is there is a lot of subjectivity as to where you define acceptable thresholds, but a single number says nothing of more specific functions.
Color, while not majorly different, is better, which is to say it is nearly perfect. It's best described as "natural"; files are rendered with a very pleasing, true-to-life tonal quality that I very much appreciate. Most files required only minor HSL adjustments, minor curves, and sometimes dodging and burning, and that was it — that's very rare for me.
Shadow and especially highlight roll-off seems to be improved as well, in a way that very nicely replicates the actual scene. The sensor responds very well to ETTR, but I also see less color shift and banding present with pushed shadows — likewise with dodged shadows and midtones. In essence, noise, while present, is unoffensive and largely monochromatic — whatever OMDS has done as far as chroma noise is commendable.
So, is it two stops better in low-light with an extra stop of DR? In JPEGs (more on that below), yes. In RAW, I'd put it at more like one stop of high ISO performance and possibly one extra stop of DR, but it may be more like half a stop. It's very close to what OMDS claims, though, and still mightily impressive given that we're talking about a stacked sensor.
Out-of-Camera JPEGs
As I mentioned, Olympus cameras have long had some of the best color out there from any manufacturer. Hasselblad is probably the only one whose color I would consider perfect, but Olympus cameras have always been what I would call "extremely great." OMDS, however, has brought that up another notch with the OM-1 — personally, I'd rate the color as "perfect minus." It's not as neutral as Hasselblad's, but the OM-1's colors are still phenomenally accurate with a rather pleasing warmth to them.
Olympus always had some of the finest straight out of camera JPEGs of any manufacturer. The OM-D cameras certainly have the most extensive controls to fine-tune your own JPEG presets: curves, HSL adjustments, and very precise incremental adjustments for sharpness and noise reduction. The color creator wheel also allows for exceptionally precise white balance, as well as the ability to effectively add "filters" to black and white photos (e.g. to use red to darken a blue sky: drop saturation to zero and shift the hue).
The "Natural" profile, which sits somewhere between "Vivid" and "Muted," is my favorite and nearly perfect as it is. All I did were some slight adjustments to sharpness and noise reduction and left it at that. The result? The OM-1 has the best out-of-camera JPEGs I have ever seen from any manufacturer.
The OM-1's JPEGs retain crisp detail with minimal compression, well-balanced contrast and saturation, and, of course, outstandingly great colors. I think there's some kind of AI-centric noise reduction going on here too — even with noise reduction set relatively high, there's a minimal hit in fine detail. Even more impressively, with noise reduction dialed down, high ISOs display remarkably little chroma noise and almost no perceptible color shift.
Computational Photography
If there's one thing that's set Olympus cameras apart from the pack, it's the computational features that the company packed into its cameras. OMDS continues this tradition in fine fashion with the OM-1, retaining all the same great features, except with improvements. Thanks to the new TruePic X Dual Quad Core processor, the OM-1 touts four times the processing speed and 60 times the computational abilities of its predecessors.
Handheld High Resolution Mode
Carried over from the E-M1X and E-M1 Mark III is a 50-megapixel handheld high-resolution (HHHR) shot mode. Spec sheets promise 2.5 times the processing speed with HHHR, as well as improved image quality. HHHR works by exploiting the power of the OM-1's class-leading IBIS to shift the sensor in concert with the natural micro-movements of our hands — it's the same idea as the sensor-shift high-resolution offered by many other manufacturers, except without the tripod (I should note Pentax also offers this in its K-1 Mark II as does Panasonic in its new GH6).
The desired result of any sensor-shift high-resolution mode is superior color (due to full-color sampling at each photosite), no moiré, reduced noise, no false color, and, of course, increased resolution/detail.
With the E-M1 models, I found HHHR to be hit and miss. Most of the time it resulted in what looked more like an AI upscale; there were never 50 true megapixels of detail.
However, the OM-1 not only gives us faster processing — it takes about four to five seconds now instead of 12 to 15 — but the results are significantly better. The files appear to resolve on par with the Nikon Z7 but with superior color, less noise, and no aliasing to boot. Keep in mind, results do depend on your shot discipline, subject, and focal length (longer focal lengths require steadier hands), but either way, the process is quicker than before, with superior results.
Unfortunately, both tripod high-resolution and HHHR lack the exceptional motion correction processing of the Panasonic GH6 and S1 cameras — I'd love to see this introduced via firmware since, according to OMDS, the camera isn't fully exploiting its computational processing abilities, so there's a lot of room for such improvements.
Live ND
Live ND is one of my favorite features. Say you want to blur the movement of a waterfall, but oops! You left your ND filters at home. No problem. Go into the menu, turn on Live ND, choose your strength — which is now ND2 to ND64 (one to six stops) — and set your shutter speed (you must be in either shutter priority or manual). The camera will then take a series of quick shots over the set period of time and blend them in-camera. You're still effectively capturing the progressive motion over that given period of time, but without the disadvantage of excessive light gathering.
Not only does the OM-1 do all of this in-camera and combine it into a single RAW file, but it will also preview the effect for you on the LCD screen/EVF.
Focus Stacking
While not unique to Olympus or the OM-1, in-camera focus stacking is incredibly simple. Many other cameras will focus bracket but require you to combine the photos in post. With the OM-1, you can combine up to 15 photos in the camera — the user defines the focus point, and the camera will gradually shift the focus forward to increase the depth of field, something that would otherwise require a tilt-shift lens. If your work requires more than 15 shots, the OM-1 will focus bracket up to 999 shots that you can then combine on your computer.
Video
I won't get too much into video because we at PetaPixel focus more on photography, plus the video elements alone could be an entire review unto themselves.
I did, however, shoot some footage with my Olympus 12-40/2.8 Pro, and I was very impressed with what I saw. Shooting in DCI 4K, 10-bit H.265, with OM-Log400, yields extremely flexible files. Noise reduction and sharpening are not overdone, and there is a healthy amount of dynamic range on tap. You can dig into the noise floor without terrible color shifts or banding — the files are just very malleable. OM-Log400's base sensitivity is ISO 400. You can go down to ISO 200, but you'll take a hit in highlight latitude
Color is also phenomenal, as it is for stills. While Panasonic may have better video output and certainly better video features in-camera, I always found the pinkish hue of Panasonic files to necessitate a lot of work in post. OM-1 video simply gives us what it does with stills: natural and controlled colors. Thanks to the fast readout of the stacked sensor, there is also minimal rolling shutter — it's on par with the best non-global shutter cinema cameras in this regard.
OMDS has thrown a lot of great video features into this camera and when combined with its class-leading IBIS and generally excellent (though not consistently as good as the best FF cameras) subject tracking, you have a very complete package here for a lot of uses. Would I use it for my cinema work? Not likely — I use dedicated cinema cameras with manual focus lenses. Would I use it for documentary or some run-and-gun work where stabilization and AF tracking are helpful? Absolutely. As much as we try to shoot in controlled environments, sometimes low-budget indie work means you must do what you can with what little you have.
I don't do vlogging, but it's certainly a great contender for such work — brilliant stabilization, good subject tracking, and perhaps most importantly, small and affordable lenses. It makes for a very compelling vlogging package.
It would be nice to see shutter angles (though at least there is a 1/48th instead of just 1/50), false color, an open gate mode, and a cleaner separation between photo and video modes like what some others have (finally) started doing. Right now, there are a few basic settings under the Video tab, but anything else is set up in the same place as it is for stills within the menu. Until then, you can always dedicate one of the C1 through C4 settings to video.
Another issue is that while the camera offers 12-bit ProRes RAW output, we're stuck with a terrible micro-HDMI port. With such ambitious video specs, it's a shame not to see a full HDMI port — especially given how many other cameras of similar size are managing to squeeze it in there. Or, even better, OMDS could strike a deal with Blackmagic Design to include an internal 4K DCI BRAW — theoretically, this should be available via firmware.
The Best Micro Four Thirds Camera Ever Made
If you're a fan of Micro Four Thirds, or especially Olympus, the $2,200 OM-1 offers a powerhouse of incredible features, great image quality, tank-like construction, and phenomenal handling. The redesigned menus, improved ergonomics, some of the best color available in any camera, and all the other little improvements make this a camera worth serious consideration.
It's the best Micro Four Thirds camera ever made and one of the most capable cameras in any format. Speed is unparalleled while image quality is stellar, with exceptional tonality, dynamic range, and gorgeously natural colors.
While it may not turn any of the diehard anti-Micro Four Thirds crowd, it should absolutely be considered by any serious wildlife or sports shooters or anyone else seeking a small, affordable, powerhouse package. Getting this kind of performance in another camera would cost you over twice as much, and your lenses would be at least two to three times the size and weight for equivalent focal lengths.
This is a great camera, with even greater potential via firmware updates, and I cannot wait to see what OMDS brings us next.
Are There Alternatives?
Sure, depending on what's important to you. Is there anything else that can do 50 frames per second with full autofocus and autoexposure? No. But maybe that's way too much for you. The closest analogs in terms of features would be the Olympus E-M1 Mark III and Olympus E-M1X — these also have many of the same AI-type features like handheld high-resolution, Live Bulb, Live ND, etc. They're also incredibly well-built, if not quite up to the same IP53 certification as the OM-1.
From Panasonic, the nearest competitor is probably the Panasonic G9 or perhaps the new Panasonic GH6, though the latter is certainly geared toward video users above all despite what Panasonic says. The Panasonic G9 is still an excellent and very capable camera, with fantastic ergonomics, but it does lack some of those AI and computational features that have always made Olympus cameras extremely unique — and it simply can't compete with the OM-1 in either speed or autofocus tracking. Or color. Have I mentioned how great the colors are from this camera?
Should You Buy It?
Absolutely, yes. If you're a sports or wildlife photographer, the combination of speed, durability, and the diminutive size of the lens (compared to APS-C or full-frame) makes the OM Digital Solutions OM System OM-1 one of the best cameras on the market. If you do slower work, like landscapes, and already have one of the more recent E-M1 models, you may want to wait to see what OM Digital comes up with next.