Harry and Meghan 'Demand' Photo Agency Give Them Car Chase Images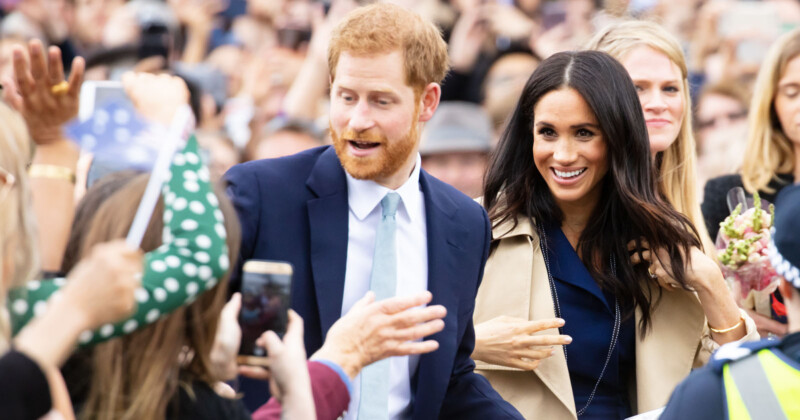 Prince Harry and Meghan Markle have reportedly sent a legal demand to a photo agency ordering that it hand over images taken during what the couple said was a "near-catastrophic" car chase.
Harry and Meghan claimed that they had been involved in a potentially dangerous two-hour car chase "at the hands of a ring of highly aggressive paparazzi" after leaving the Women of Vision charity event in New York on Tuesday.
The BBC reports that Harry and Meghan demanded that California-based photo agency Backgrid hand over the images.
Prince Harry and Meghan Markle arrive at the Women of Vision Awards carpet. pic.twitter.com/4I00fhsaag

— Entertainment Tonight (@etnow) May 16, 2023
Prince Harry and Meghan Markle leave the Women of Vision Gala @anadoluagency pic.twitter.com/SAL8cBYbMz

— L. Vural Elibol (@vuralelibol) May 17, 2023
The photo agency received a letter from the couple's lawyers that reads: "We hereby demand that Backgrid immediately provide us with copies of all photos, videos, and/or films taken last night by the freelance photographers after the couple left their event and over the next several hours."
'Property Belongs to The Owner of It'
However, on Thursday, Backgrid told the BBC that it rejected the demand to turn over the photos from the couple's legal team.
"In America, as I'm sure you know, property belongs to the owner of it: Third parties cannot just demand it be given to them, as perhaps Kings can do," Backgrid states in a legal letter to the royal couple.
"Perhaps you should sit down with your client and advise them that his English rules of royal prerogative to demand that the citizenry hand over their property to the Crown were rejected by this country long ago.
"We stand by our founding fathers."
A Disputed 'Car Chase'
Harry's and Meghan's account of the car chase has been repeatedly called into question this week.
In a statement, the New York Police Department (NYPD) says that it had "assisted the private security team" wherein "there were numerous photographers that made their transport challenging."
However, the NYPD confirms: "there were no reported collisions, summonses, injuries, or arrests."
The couple's taxi driver Sukhcharn Singh also cast doubt on their account of the incident on Tuesday night.
"I don't think I would call it a chase," Singh tells The Washington Post.
"I never felt like I was in danger. It wasn't like a car chase in a movie. They were quiet and seemed scared, but it's New York — it's safe."
Backgrid also disputed Harry's and Meghan's claims that the paparazzi behaved aggressively. The photo agency tells CNN that it obtained material from four freelance photographers trailing the couple who were acting on their "professional responsibility to cover newsworthy events."
"They had no intention of causing any distress or harm, as their only tool was their cameras. A few of the photos even show Meghan Markle smiling inside a cab."
Harry's mother, Princess Diana, died in a 1997 car crash in Paris that also involved photographers pursuing her vehicle.
In an interview earlier this year, Harry shared how he discovered a group of photographers taking pictures of his mother's death after he viewed photos of the crash scene where Diana died.
---
Image credits: Header photo licensed via Depositphotos.