Epson's New Legacy Baryta II Paper Promises Rich Blacks and Wide Color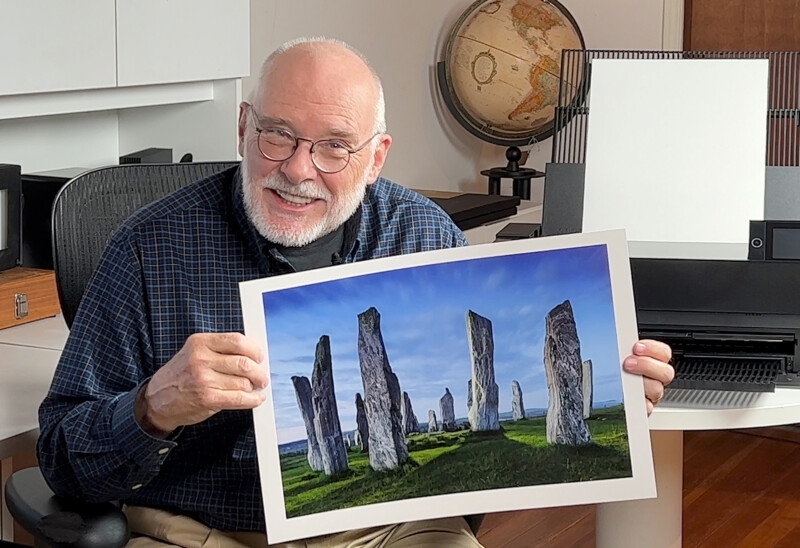 Epson has introduced the newest addition to its Legacy Papers portfolio: the Legacy Baryta II. Inspired by what Epson calls the "legendary f/64 Group of photographers," Baryta II is an OBA-free, 100% cotton fiber paper with a true baryta coating that offers an "industry-leading" microporous coating for rich blacks and a wide color gamut.
Baryta II is designed to be used by professional photographers, fine artists, galleries, museums, and collectors and is available in cut sheets up to 17 by 22 inches and roll widths up to 60 inches.
PetaPixel's Jeremy Gray reviewed the original Legacy Baryta for Imaging Resource (which is now offline and cannot be linked to) and found that the bright, white satin-finish archival paper was very easily gallery-quality. It was inspired by classic F-surface darkroom paper but was designed for contemporary pigment-based photo printers. It has extremely good black levels, similar in overall look to luster paper, but on a thicker media with a subtle texture.
The expectation is that this new edition will deliver even better results since Baryta II is 4 mils thicker and has a 92 whiteness rating versus 90. It still lacks optical brightening agents and remains acid-free and lignin-free.
"We worked with industry-leading photographers to improve upon our last baryta paper to produce this new, industry-leading formulation," Jeffrey Smith, senior product manager, Professional Imaging, Epson America, Inc. says.
"Designed for artists who intend to sell their prints, the new Baryta II paper offers rich, deep blacks and a wide color gamut with a true baryta coating reminiscent of revered silver halide darkroom papers."
"With Legacy Baryta II, black-and-white prints are inky black and color is rich and effortless — just plain beautiful photographic prints that feel substantial and reminiscent of the very best darkroom papers," Jim Richardson, a National Geographic photographer, pictured above, adds.
"Central to photography is the idea of capturing moments you can look at for years, decades and centuries. I can tell anyone who comes in and buys a print from me, it will be a lifetime purchase."
Baryta II joins Epson's four other Legacy series papers including Legacy Platine, described as a unique paper with a satin surface that combines the look and feel of a traditional silver halide paper but with a true fine art cotton base, Legacy Fibre. which is described as an old-world artisan paper with a smooth matte finish with a true white base, Legacy Etching, a tribute to the classic hand-made etching papers, and Legacy Textured, which Epson says has the look of old-world handcrafted watercolor papers and it is a heavily textured fine art paper with exceptional black density and color gamut.
The company notes that the portfolio of Legacy Papers now includes five 100% cotton fiber, OBA-free papers. They also feature the latest UltraChrome Pro12 and Pro10 pigment inks that Epson says were thoroughly evaluated by Wilhelm Imaging Research (WIR) using WIR's demanding eight-factor permanence testing protocols. These papers are the only ones in the world that can claim as much.
Epson's new Legacy Baryta II paper is, as mentioned, available in several sizes but only the 24-inch by 50-Foot and 44-inch by 50-foot sizes are currently prices. The former is $215 while the latter costs $349.
---
Image credits: Epson