The Best Laptops for Photographers and Photo Editing in 2023
Seasoned photographers know that the search for the right laptop comes down to far more than a list of individually impressive specs. The perfect laptop for photo editing will not always be the one with the most bells and whistles, because perfection here is about so much more: usability, ease, intuition — all the things that combine to create not just powerful imagery, but a powerful workflow as well.
With this total experience in mind, we have created a list of the best laptops for photo editing you can buy right now.
What We're Looking For
A photographer has many competing needs when selecting a laptop, so we have attempted to cover the most common areas for this list. We have considered price, functionality, performance, and durability to come to the following selections.
At a Glance
Best Overall Laptop for Photographers: Apple MacBook Pro with M2 Max (16-inch)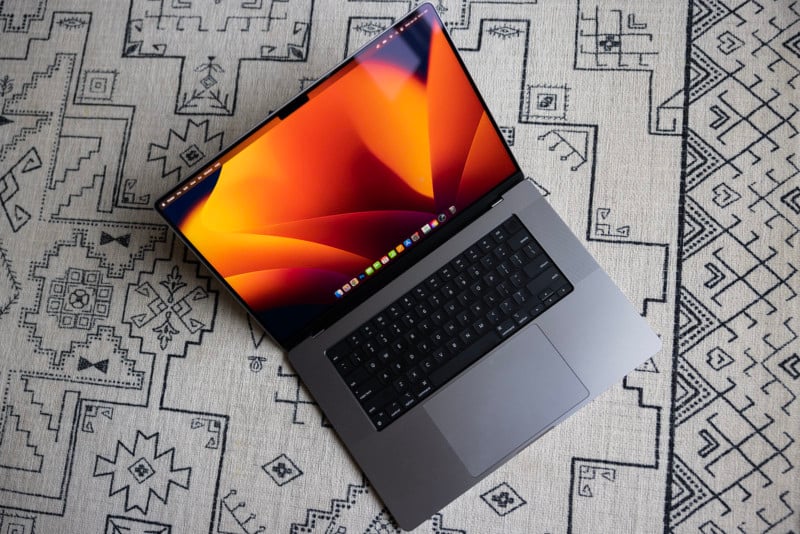 CPU: M2 Max 12-Core
GPU: M2 38-Core integrated
RAM: 64GB unified RAM
Storage: 2TB SSD
Display: 16.2-inch Liquid Retina XDR (3,456 x 2,234 pixels)
Size: 14.01 x 9.77 x 0.66-inches
Weight: 4.8 pounds
Price: Starting at $3,099
If your core focus is having access to the best possible hardware available, then look no further than the new MacBook Pro powered by the M2 Max. This laptop takes everything great about the previous M1 version and makes it even faster.
Read PetaPixel's Apple MacBook Pro with M2 Max Review
Apple didn't quite blow our socks off the same way it did when it first brought M1 to market, but its latest laptop still makes the strongest argument as the most powerful option for photographers and videographers. That said, if you currently own an M1 Max MacBook Pro, we don't think there is a strong reason to upgrade to the M2 Max — especially if your main work is video related.
It is possible to get a more powerful laptop than the M2 Max MacBook Pro, but that power comes at a cost. In our benchmarks, the MSI Titan GT77 hung with or outright beat Apple's latest laptop and if numbers on a performance chart were all that mattered, this would be an open and shut case. But these performance numbers can't be looked at in a vacuum like that. What makes Apple Silicon special is how much power you get in exchange for the physical size of the laptop and how little power it takes to reach those numbers.
You can get a laptop that is capable of better performance outside of Apple, but you're going to be hard-pressed to find a laptop that is more usable in real-world situations than the MacBook Pro.
If you have any other category of Apple Silicon (or prior) laptop outside of the M1 Max, the M2 Max is our pick. Otherwise, we don't see a reason why you shouldn't stick with Apple's previous generation MacBook Pro since it's still a beast.
---
Best PC Laptop for Photographers: Dell XPS 15 (9510)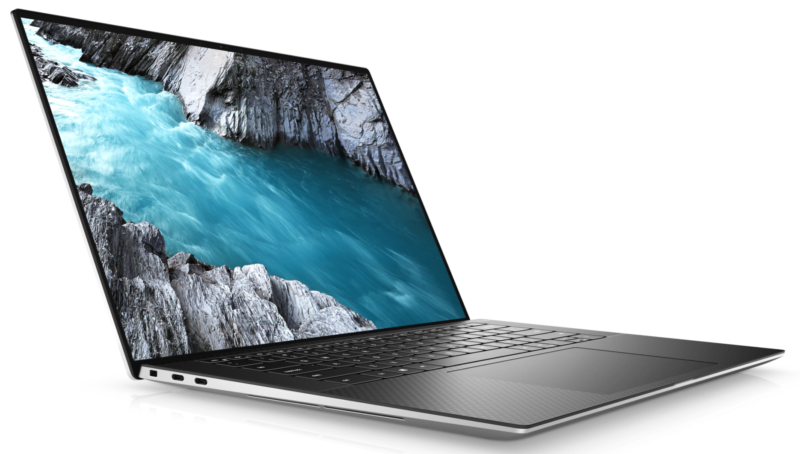 CPU: Intel Core i7-11800H (11th Gen)
CPU: Intel Core i7-11800H (11th Gen)
GPU: NVIDIA GeForce RTX 3050 4GB GDDR6
RAM: 32GB DDR4
Storage: 512GB M.2 PCle NVMe SSD
Display: 15.6-inch, 3.5K OLED (3456×2160)
Size: 13.57 x 9.06 x 0.71-inch
Weight: 3.99lb
Price: Starting at $2,008.99
The key to any pick for "Best PC" on a list like this is not that it does a few things flawlessly or that it's loaded to the brim with features that are frankly excessive for 99% of photographers, but that it does everything "well." No laptop on this list fits that bill better than Dell's XPS 15 (9510): it just flat-out works.
No matter your need, skill, or financial situation, there is a configuration of the XPS 15 that is going to make you happy, and, most importantly, get the job done. The massive configuration and options that are available are a big part of what makes this our top pick. Every spec is user-selectable without changing the entire system. For example, if you don't care about the 3.5K OLED screen, you can downgrade to the 15.6-inch FHD+ InfinityEdge and knock about $200 off, for example. That said, we think that an extra $200 is more than worth the extra expense given how much of an improvement you get.
We have picked what we view as the optimal combination for processing power, storage, screen quality, and price and it will run you around $2,000. Its 15.6-inch 3.5K (3456×2160) Anti-Glare Screen is incredibly impressive, with 400-nits brightness and razor-thin Infinity Edge bezels on all four sides. In terms of processing power, you will get the 11th Generation Intel Core i7, a whopping 32GB of RAM, and a 512GB SSD, which is plenty suitable for most — particularly since many photographers work off external storage.
Design across all configurations is sleek and comfortable, with the already-pleasant keycaps and touchpad getting a size increase over prior models. In keeping with the "Do everything pretty well" vibe of an all-arounder, port selection is mostly fine, offering three USB-C ports for charging and connecting to peripherals. Two of these are Thunderbolt 4, which is extremely welcome and something that not many PCs boast. There's also a full-sized SD card reader.
For those who want more spring in their step, you can increase your investment by moving to the Core i9 CPU, double your RAM to 64GB, and enhance your storage capacity all the way up to 8TB, and even boost your graphics to NVIDIA's GeForce RTX 3050 Ti. You also have the option to upgrade to the UHD+ 3740×2400 500-nit brightness screen. All of these upgrades are overkill for almost all photographers, but those whose work entails a hybrid of both photo and video may find the increased CPU, RAM, storage, and graphics power to be well worth the extra cash.
Conversely, the base level model is available starting at $1,273.99 — if you're willing to drop to a Core i5 CPU, 8GB of RAM, a 256GB SSD, integrated Intel UHD graphics, and a basic FHD+ (1920×1200) display. But, as mentioned, you can adjust many of these specs to suit your needs (and budget). And perhaps best of all, both the RAM and SSD are user-upgradeable (nothing soldered here), making the jump from the base model to 16GB or even 32GB of RAM fairly easy and affordable after purchase. The integrated graphics of the base model are a demerit, but casual photographers will have no complaints as most photo editing applications rely largely on CPU processing.
No matter which configuration you choose for the XPS 15, you are going to find yourself steadily working without fuss, without issue, and with a good bit of enjoyment. The only downside to this machine is that it is so popular you might have a little more trouble locating one in stock. If all else fails, they are always available directly from Dell, and the website offers a price-match guarantee.
If you're not a fan of Dell, a solid alternative option would be the Razer Blade 14 QHD thanks to its excellent build quality, AMD Ryzen 9 5900HX CPU, NVIDIA RTX 3070 GPU, large 1TB SSD, and impressive port selection. In our review, we noted it was made for gamers, but is great for creators. The Razer Blade 14 was made for gamers, but photographers have no choice but to love it, too. Razer makes higher-end options (noted further down), but the Blade 14 gives photographers pretty much all they need, and then some.
---
Best Apple Laptop for Phototographers: MacBook Pro M1 (13.3")
CPU: M1 8-Core (4 high-performance and 4 high-efficiency cores)
GPU: M1 8-Core Integrated
RAM: 8GB Embedded DRAM
Storage: 256GB Integrated PCle SSD
Display: 13.3-inch, Retina Display (2560 x 1600)
Size: 11.97 x 8.36 x 0.61-inch
Weight: 3 pounds
Price: Starting at $1,199
The 2019 MacBook Pro 16-inch was, and remains, one of the most impressive laptops in the industry, and while it has been "replaced" by the M2, it's still a really good chip that is more than enough power for the average photographer. At this time, we don't think that upgrading to M2 is really necessary.
It is possible to bog the M1 down, but you have to sweat to do it by opening an insane number of windows and programs before the hint of a stutter appears. When it comes to Photoshop, this machine flat-out smokes much of the competition, especially those in the same price tier. Factor in the battery life and the M1 starts to feel unbeatable.
From a design perspective, it is exactly what you would expect from a MacBook, complete with all the benefits and drawbacks one expects. The 13-inch screen, while boasting that beautiful Retina display (with 100% DCI-P3 coverage), still suffers from the annoyingly thick bezels. That said, it is far brighter than you expect, surpassing numerous competitors (even popular members of the MacBook line), and delivers quality color information. The Magic Keyboard may not be suited to everyone, but those who love it will really, really love it. Overall weight is still an issue, but manageable.
The maximum 16GB of RAM is one sacrifice here, though it should be noted that the M1's RAM goes much further than those with Intel or AMD-based processors — the 16GB model will serve those who edit very high-resolution photos and/or video, while the 8GB model is a great option for the everyday photographer on a budget. The other niggle is its mere two Thunderbolt 4 ports, but this is easily expanded with excellent products like the OWC Thunderbolt 4 Hub or Thunderbolt 4 Dock.
While the M1 MacBook Pro isn't Apple's top-of-the-line offering, it is perhaps the best value. Even though the M2 Max-powered 16-inch MacBook Pro might be tempting, only those who really demand the most performance are going to want to shell out the big bucks to pick one up. For the rest of us, the original M1 is plenty powerful.
---
Best Budget Laptop for Photographers: MacBook Air M1
CPU: M1 8-Core
GPU: M1 7-Core
RAM: 8GB DDR4
Storage: 256GB PCle SSD
Display: 13.3-inch (2,560 x 1,600)
Size: 11.97 x 8.36 x 0.63-inch
Weight: 2.8 pounds
Price: Starting at $899
Again, you can spring for M2, but most of you will be perfectly served by M1 especially now since they are cheaper.
With an eight-core CPU (four high efficiency and four energy efficiency cores) and a seven-core GPU, along with either 8GB or 16GB of integrated RAM, the Air is capable of incredibly demanding tasks — it will take just about any photo editing you can throw at it and can cut through 4K (and higher) video footage like butter for all but the most intense editing or graphics work. It can do that all while boasting one of the longest — if not the longest — battery life of any laptop you can buy (rated at 17 hours of wireless web browsing by Apple and tests show that is not far off).
Maybe best of all, the MacBook Air M1 loses very little to the MacBook Pro M1 — both have the same M1 CPU, RAM options of either 8GB or 16GB, SSD up to 2TB, and the same 13.3" 2560×1600 100% DCI-P3 Retina display. Essentially, the only difference is the size and weight, the lack of the Touch Bar on the MacBook Air, and a seven-core GPU versus eight-core GPU. For the first time in a Mac, or any computer, you lose practically nothing in performance between the base model, the Pro laptop, and even the Mac Mini and iMac M1.
Perhaps the biggest disappointment is the limitation of only two Thunderbolt 4 ports, but, at least for me, this is easily solved using a Thunderbolt dock or a smaller Thunderbolt hub — the OWC Thunderbolt 4 Hub is the best out there, and gives you two additional Thunderbolt 4 ports. The OWC Thunderbolt 4 Dock gives you the same, along with three USB-A 3.0, one USB 2.0, an SD card slot, headphone jack, and ethernet port.
For the price, portability, and versatility, the MacBook Air M1 simply cannot be beaten. You could spring for the new M2 version if you're feeling like grabbing the most up-to-date machine, but it costs just a bit more and you might not notice the benefits. If you're not a fan of Apple, the Asus Vivobook S15 S533 is the most complete laptop you're likely to find for those pinching pennies.
---
Best Detachable 2-In-1 Laptop for Photographers: Microsoft Surface Pro 8
CPU: Intel Core i5-1135G7 Quad-Core
GPU: Intel Iris Xe
RAM: 8GB LPDDR4x
Storage: 128GB SSD
Display: 13-inch, PixelSense Flow 10-Point Touchscreen (2880 x 1920)
Size: 11.3 x 8.2 x 0.37-inch
Weight: 1.96lb
Price: Starting at $1,099.99
Every company makes them at this point, but Microsoft remains king of the hill when it comes to tablet-style "2-in-1" PC. The company's Surface line remains a juggernaut in an ever-expanding market, and the Surface Pro 8 is the latest example of that dominance. Combining the performance increases of the 7 with the modern design of the X, then improving on both, the Surface Pro 8 is the best the line has ever offered.
One look at the screen and the leap forward becomes clear — literally. Gone are the chunkier bezels of the past, making room for a larger 13-inch PixelSense display. Size isn't the only upgrade; resolution has been boosted to a welcome 2880 x 1920. If you are in the market for a detachable 2-in-1, you are already aware your screen will not compete directly with a dedicated laptop, but this sharper display goes a long way toward making you forget. Add in the surprising new 120Hz refresh rate and PixelSense's stellar track record with color and brightness, and you have one gorgeous display. Your eyes are not alone in their excitement, though. Your fingers get their due as well. That increased refresh rate means every touch practically glides across the display at the speed of thought. There is no usage for the touchscreen not improved by this upgrade, and you will notice.
What you may not notice, however, is that the weight and thickness of the Surface Pro 8 have expanded with the revamp — and this is a good thing. The Surface Pro has always been compact and light, an obvious positive in the 2-in-1 space. This provided Microsoft the space to bulk up for the right reasons without becoming cumbersome. So what does the extra size mean for you? Increased thermal space, and thus increased performance. Using the Puget Systems' PugetBench for the Photoshop test, Surface Pro 8 shows itself to be near the top of the pack amongst peers for the tasks most crucial for a photographer.
The trouble, of course, is that to really feel the upgrade the Surface Pro 8 represents, one needs to commit to the $1599 model featuring the 11th Gen Intel Core i7-1185G7. At this point, cost-benefit has to come into play, especially considering Microsoft refuses to include a keyboard out of the box. The good news is, both the keyboard cover and Slim Pen are wonderful to use. The bad news is, you are looking at nearly $300 more for the pleasure (or the necessity, as it were). Of course, if you are in the market for a Surface, you have likely made peace with these realities already, and the heading here is "Best Detachable 2-in-1", not "Best Budget 2-in-1." The Surface Pro 8 is a truly beautiful device, and the best on offer from the leader in the field.
It probably doesn't come as much of a surprise that the best option outside of the newest Surface Pro is… Microsoft's next-to-newest" the Microsoft Surface Pro 7. With the introduction of the 8, the Pro 7 is due for a discount.
---
Best Overall Workstation-Class Laptop for Photographers: HP ZBook Studio G8
CPU: Intel Core i7-11800H 8-Core
GPU: NVIDIA Quadro T1200 4GB GDDR6 VRAM
RAM: 16GB DDR4
Storage: 512 GB PCle M.2 SSD
Display: 15.6-inch Anti-Glare IPS (1920 x 1080)
Size: 13.94 x 9.24 x 0.7-inch
Weight: 3.95lb
Price: Starting at $2,349
As we noted in our recent review, the ZBook line has always vied for attention in the mobile workstation segment but has continually gone under the radar. With the ZBook Studio G8, we think that should change. In some ways, it should come as no surprise that a line seemingly arguing with itself over whether it wants to pump out business laptops or gaming rigs would eventually split the difference and stumble on a machine ideal for photo editing.
The price may raise eyebrows, but the ZBook Studio G8 positions itself in direct competition with premium machines available from the likes of Razer. Once expectations adjust, you will find the Studio G8 a more than worthy option in that space. The G8 is an all-in-one machine meant to facilitate any work, play, or viewing experience you throw at it.
The construction alone confirms the dual focus on luxury and strength. The magnesium and aluminum alloy build is as rugged as it is refined. The design is sharp, sleek, but its durability is never in question. We touch on how extensive the testing is on these machines in our review but suffice to say: you can be confident the G8 can handle whatever you throw at it. Literally.
The keyboard action is pleasing and precise, and the glass-topped trackpad, while smaller than you may expect, is quite responsive and provides a very satisfying, tactile click. The 15.6-inch 4K OLED touchscreen is brilliant and one of the most satisfying screens on this list. Playing back into that marriage of polish and durability, it is also covered in Gorilla Glass 6.
Under the hood, there is quite a lot to cheer for. The marriage of the 8-core Intel Core i9-11950H, 16GB of RAM, and the Nvidia Quadro T1200 4GB GDDR6 graphics card makes this a fantastic fit for any photographer. The 512GB M.2 SSD is plenty for those who work off external SSDs or hard drives as well.
But the ZBook Studio G8 can take the leap from being a very good photo editing machine to an absolute monster for photo, video, and graphics editing — or pretty much anything else you can throw at it. Maxed out with an Intel Core i9-11950H processor, 32GB of RAM, a 1TB M.2 SSD, an NVIDIA GeForce RTX 3080, and a 120hz 3840 x 2160 DreamColor IPS Display, it can handle just about anything you throw at it — all while remaining as sleek and user-friendly as any mid-sized laptop should be. It will cost you an eye-watering $5,198.95, however.
The one deficit — and it seems a rather noticeable one given the goals of the device — is the dearth of available ports. The two Thunderbolt 4 USB4 Type-C are certainly welcome, but they are accompanied only by a single USB-A 3.2 Gen 1 port, one 3.5 mm headphone/mic combo audio jack, one HDMI 2.1, and one Mini DisplayPort. It is a survivable amount, but for the price HP is asking, we would hope and expect a bit more. Predictably, for a desk-rider like this, battery life is only middling — Five hours is simply frustrating at this level.
Still, this is one of the more beautiful, more powerful laptops on the market, and, despite its price, will likely be under-considered by those who could most appreciate it. Reliability and performance are the keys to high volume, consistent work against a deadline. On this front, the Studio G8 is a marvel. In the end, it may be most exciting for what it portends. If this is a signal to the direction the ZBook line is moving, the future is incredibly exciting.
Alternatively, we think the Razer Blade 15 Advanced is a solid pick. While not necessarily a "workstation" like the Studio G8 is, we reviewed the Razer Blade 15 Advanced and found it to be an excellent, powerful option. Slimmer and sleeker than you would expect for the power it contains, it is one of the most usable, enjoyable laptops on the market. Its half-inch thick frame holds an 11th-Gen Intel Core i7 with 32 GB of RAM and an NVIDIA RTX 3080 graphics card that will rip through whatever creative multitasking you throw its way.
---
Best Value Workstation-Class Laptop for Photographers: Gigabyte Aero 17 HDR XD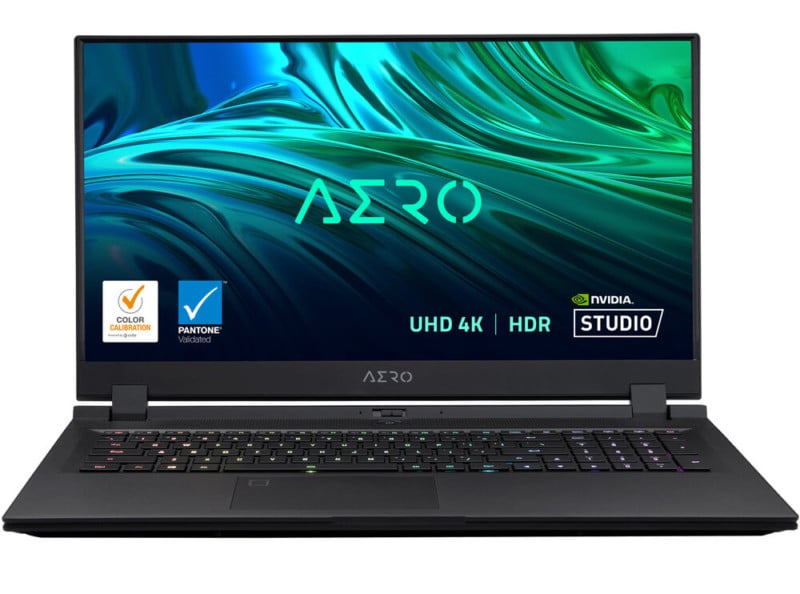 CPU: Intel Core i7-11800H
GPU: NVIDIA GeForce RTX 3070 8GB GDDR6
RAM: 16GB DDR4
Storage: 1TB SSD
Display: 17.3-inch 4K UHD HDR OLED (3840 x 2160)
Size: 15.6 x 10.6 x 0.85-inch
Weight: 5.5lb
Price: Starting at $2,149
The Gigabyte Aero 17 successfully goes beyond "best laptop" into "best workstation" territory in a way few rivals can claim. The raw power of the Aero 17 is impressive, even more so once one considers its very reasonable price.
The first thing that catches my attention about the Aero is its GPU. One of the first laptops released in 2021, it boasts the latest in NVIDIA GeForce RTX 30-series GPUs. Whether you opt for the 8GB GDD6 3070 or 16GB GDDR6 3080, the graphics processing force of this machine places it ahead of the pack. These may not be the desktop versions of these much-hyped (and impossible to find for anywhere near a reasonable price) cards, but they will still knock your socks off.
Whether it's Adobe Premiere or Da Vinci Resolve or something else, the Aero is built to easily handle 8K footage, ray tracing, virtual reality, 3D modeling and animation, and visual effects work. NVIDIA DLSS utilizes the Tensor Cores for a boost in AI rendering, while the AI-powered Dynamic Boost 2.0 manages power on a per-frame basis, allowing the computer's AI to constantly optimize the CPU, GPU, and GPU memory for the maximum performance boost. These features are entirely overkill for those who solely engage in photo work, but I imagine 3D artists and video editors read these specs and immediately break into a sweat, nodding and cheering. This makes it the ultimate choice for those of us who edit photos as well as video, or any other graphics-intensive work.
The build quality here is exceptional. While certainly not a slim device, it is far less bulky than one would anticipate given its robust performance. The Gigabyte Fusion RGB Per-Key Backlit Keyboard may aggravate some who value cleaner and sleeker aesthetics, but this is part and parcel with a rig that screams "game on." Unlike some other laptops on the list, you are practically spoiled with ports on the Aero 17, which features three USB 3.2 Gen1 Type-A ports, one Thunderbolt 4, an HDMI 2.1 port (which supports 4K up to 120Hz), a Mini DisplayPort 1.4, a UHS-II SD Card Reader, as well as headphone out and mic in ports. As far as sound, the Aero sports DTS: X Ultra speakers which enable virtual 7.1 surround sound, and Two-Way AI Noise Cancelation for class-leading incoming and outgoing audio.
If there is a disappointment to be found with the Aero, it comes in battery life. This tracks, given how much processing power is packed into this thing, but for those on the go, planning out a charging strategy will be a must. It also tends to run somewhat hot and a little noisier than some may prefer; just tell yourself these are the prices you pay for power. To its benefit, however, the Aero sports Microsoft Azure AI, which Gigabyte touts as "the world's first AI laptop." As you use the laptop and various applications, the Microsoft Azure Machine Learning platform gathers data and then optimizes the CPU and GPU usage for both processing speed and to limit wattage consumption, thus enhancing battery life.
All this, and we failed to touch on the 17.3-inch 4K UHD OLED Anti-glare screen with 100% Adobe RGB coverage all surrounded by "the world's first" ultra-thin 3mm three-sided bezel. Oh, and every individual unit is factory X-Rite calibrated with a Pantone Validated certification. Want accurate colors right out of the box? Yes, I think I do, thank you.
Upgrade to the Aero 17 HDR YD and you bump the specs up to a Core i9-11980HK, 32GB RAM, a GeForce RTX 3080 GPU with 16GB GDDR6, and a 512GB PCIe Gen4 SSD as well as a second 1TB Gen3 hard drive for additional storage.
If you want a suggestion beyond Gigabyte, the Lenovo ThinkPad P15 Gen 1 is a solid alternative. It is blazing fast, has a phenomenal screen, and sports a generous port selection which makes the Lenovo ThinkPad P15 one of the best mobile workstations for creatives out there. With Gen 2 just around the corner, Gen 1 is already seeing massive discounts online. Not just a great value selection, this one is a steal.