10 Best Camera Straps in 2023
We can spend hours poring over buying guides and recommendations for the fanciest, most expensive pieces of kit to complete our bag as photographers, but in all that excitement, there is one crucial piece of our arsenal that can be overlooked. It hardly qualifies as a bell or a whistle and no one will drool with envy at the sight of it, but it is absolutely one of the most important purchases you will make: the camera strap.

I love a good strap. Choosing the right one for the situation can elevate any photographer's experience. Given the wide variance in style, material, and function, any honest list will not leave you with deciding on only one great option, but potentially several, each suited to different situations you will encounter in the field. Here are some of the best camera straps you can buy.
At a Glance
1. Arte di Mano Neck Straps
Arte di Mano — operating as JnK Handworks and based out of South Korea — specializes in handmade, luxury leather goods. Many of its products, including half-cases and replacement camera skins, are designed solely for Leica cameras — everything from the original Leica M3 to the most recent M10 series (and, presumably before long, the M11).
Of course, camera straps can be used with any camera, not just Leicas. And Arte di Mano has a huge range of options, all of them handmade with care and attention to detail. From neck to wrist straps, braided to full-ling leather to crocodile to painted cotton to Laccio, there are plenty of types and colors to choose from.
Yes, it may well be the most expensive option on the list. But when you get yours, you'll see the craftsmanship that such money can buy.
Available for $65 to $298 from Arte di Mano.
2. Artisan & Artist ACAM-316G Gradation Silk Cord Straps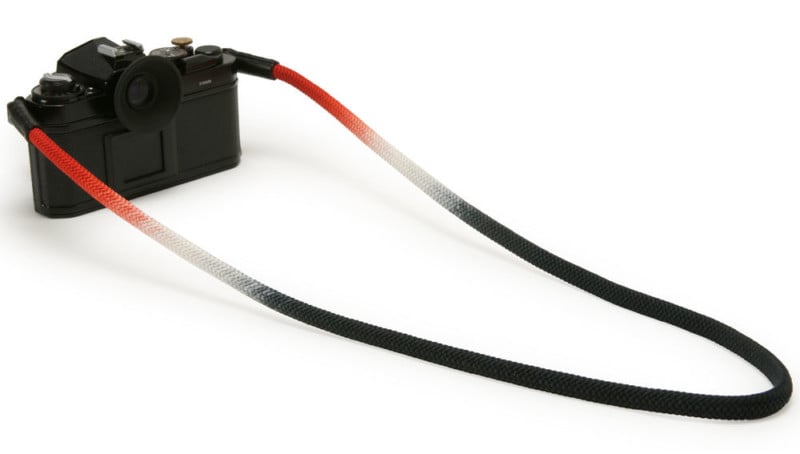 For some, camera straps are a mere utility, designed to do something and do it in the most fluid and efficient way possible — maybe you need to carry multiple cameras at once, maybe you need something that can quickly attach and detach for tripod use. For those people, there are plenty of such options on this list.
But for others, there is a deep satisfaction in complementing their cameras with premium, aesthetically refined accessories. Most Leica users pair their cameras with leather straps — it certainly isn't because leather is the most comfortable material out there.
But there is something that blends extreme comfort with a choice, opulent construction: Artisan & Artist ACAM-316G gradation silk cord straps. Designed to reflect the style of traditional silk cord kimono belts, these luxurious straps are woven using what the company calls its "Hiramaru-Karagumi" technique — perfected over the course of years, each silk thread is dyed in varying ratios before weaving, resulting in a beautiful gradation pattern that appears symmetrical when worn around the neck.
Combing the notoriously high tensile strength of silk with its pillowy soft, gentle taction, these straps are the epitome of style and comfort. Yes, they're also pricey, but sometimes that premium is worth the elegant experience.
Available for $170 from B&H.
3. BlackRapid Classic Retro RS-4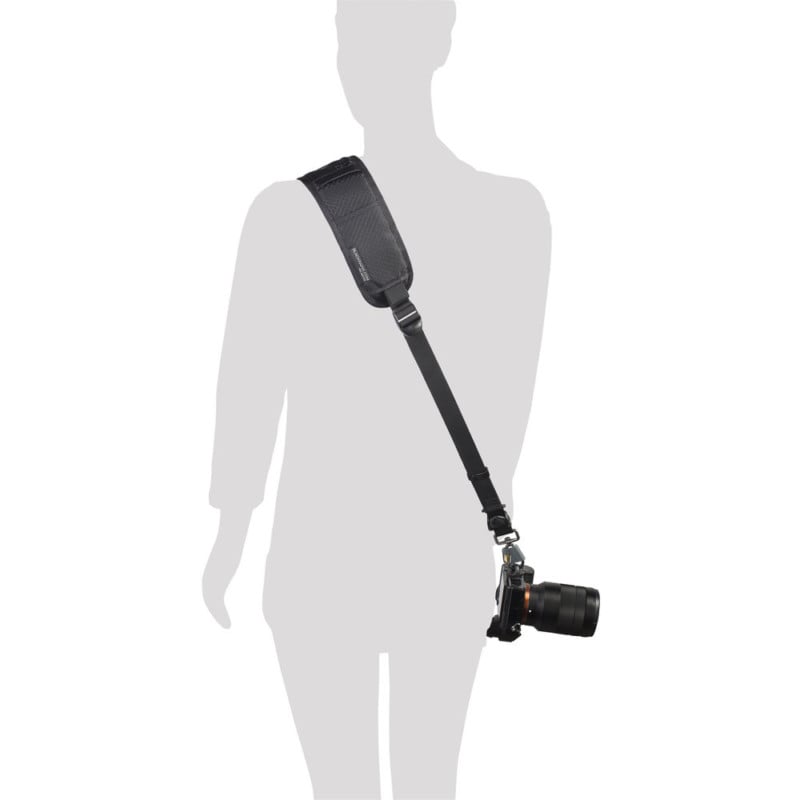 There are flashier options if you are looking to make a statement. But when it comes to a good, solid, comfortable cross-body strap, you would be hard-pressed to find one better than the BlackRapid Classic Retro RS-4.
Sling-style straps are not every photographer's cup of tea. Working primarily with a tripod, I used to count myself among their number. When on long shoots demanding maximum portability and movement, however, the comfort of shifting the weight to your shoulder as opposed to your neck is undeniable. And the RS-4 is perhaps the best sling-style strap I have ever used. The padded area is wide, cushy, but still perfectly flexible. Length adjustment is simple, unfussy. Rapid motions from hip to shooting positions are fluid and frictionless.
The feature that most impresses on the Retro RS-4, however, is its fastener. Unlike many sling-style straps that require you to unscrew the fastener from your camera body to remove, the Retro RS-4 simply requires you to undo a carabiner at the end of the strap. It is faster, saving you precious time, and less fiddly, reducing frustration. What's more, the thing is just incredibly secure when attached to the camera. For those too nervy to take my word for it, BlackRapid has an additional answer: a safety tether, which allows you to hook your camera body to the carabiner itself. When attached, the fastener could fail or fall off entirely and your camera would still not fall.
All that, and it comes equipped with a nice little pocket in the pad area. Hard to beat.
Available for $64 from Adorama.
4. BlackRapid Hybrid Breathe Double
Given how revelatory BlackRapid's sling-style Retro RS-4 is, it is no wonder that the company excels equally with its two-camera solution, the BlackRapid Hybrid Breathe Double.
First things first – this strap is not for amateurs. You would imagine this to be self-evident, given the fact most amateurs are not usually rocking a camera at each hip, but it needs to be said. This is a serious accessory for a specific type of working photographer who can most make use of it. Do not let the fact that it is convertible to a single strap setup mislead you — this purchase only makes sense for those who routinely use two cameras. Swapping to a solo strap is onerous anyhow and using the complete rig for only one camera leads to horrible weight distribution.
In its harness formation, however, it is an absolute dream to work with. It boasts all the comfort and usability of BlackRapid's normal offerings and is designed to perfectly use the weight of your two cameras to your maximum advantage. Connections are tight and secure, giving you the confidence to switch rapidly between cameras without hesitation. Materials are light and breathable, a must when doing long shoots.
The price here is a small barrier, but if you can make consistent use of a harness setup, this should be on your list of options.
Available for $106 from Adorama.
5. Clever Supply Anchor
With Clever Supply's Anchor, you will have a neck strap that looks as nice as it feels. Boasting fantastic leather in multiple colors, this is a stylish option for those who want a more refined appearance while capturing their subjects.
Clever Supply's leather is medium-tempered, meaning it is supple and comfortable, coming right out of the box feeling completely broken in. Construction is impeccable. Connections are sturdy. Utilizing the impressive Peak Design anchors, the quick-release works as quick-release should — quickly and securely.
Clever Supply's Anchor is a classy, reliable product for those who don't mind spending a slight premium for something proudly American-made.
Available for $114 from Clever Supply.
6. Gordy's Camera Wrist Straps
Sometimes you don't need all the bulk. You just want a nice, stylish, and basic strap. You can find these everywhere, and you can find them cheap. Their ubiquity only makes clearer the frequent lack of craft, however, which requires one to be even more discerning when making their choice. Thankfully, you are reading this article, and thus reading about Gordy's Camera Straps.
By far one of the most popular options and the reasons are evident immediately upon sliding one on. Gordy's has multiple variations, some customizable options, but one thing is consistent across their line: they're very, very good.
These are minimalist and durable, made from a single stripe of leather tied up with a colored cord. A rubber ring slides like butter along the strap to tighten or loosen as you see fit and holds firm until you mean to move it again. The colored cording is tough, tightly wound, and much stronger than you'd expect. The leather is soft, pliable, and comfortable.
You can certainly find more affordable straps (though these are far from expensive, and quite cheap as far as custom, handmade options go), but you would be hard-pressed to find one that will last this long, feel this good, and execute its simple design so impeccably.
Available for $30 and up from Gordy's Camera Straps.
7. HoldFast Gear Money Maker
Perhaps you are interested in a two-camera harness but want something a little more elegant. Possibly you are a wedding or event photographer, who does not want your polished appearance to be interrupted by the blocky, shiny black fabric and plastic of many more utilitarian harnesses. In this case, the HoldFast Gear Money Maker should be your first choice.
Quite simply, it is the best leather camera strap for two-camera use. The Money Maker is handcrafted specifically to not only look great but last with you for years to come. In fact, based on all reports I have seen from long-term users, the more you wear it, the more comfortable, attractive, and reliable it becomes. HoldFast backs these things up with a lifetime warranty for a reason.
Perhaps it would be silly to admit that there's a bit of a cowboy thing happening whenever I have had occasion to try one on. For all its finery, wrapping your arms through this thick leather is going to make you feel like a real shooter in more ways than one. The buffed-back leather gives feelings of suede, which is a good thing. It means that in time it will naturally conform to the shape of your body.
One thing to note is that the Money Maker isn't just a two-camera setup — it's capable of holding three cameras. As such, the setup can be a little more complex than your average harness, but once you get the knack and feel for it, you won't want to wear anything else.
Available for $285 from Adorama.
8. Peak Design Leash
Peak Design is a name you are likely familiar with if you have spent any time perusing straps online. Not only is it a brand that makes great straps, but it is also so good that other strap-makers sometimes utilize Peak Design's components on their own. The Peak Design Leash lives up to the company's reputation, delivering a simple, effective accessory perfect for urban photographers.
The Leash is made from sturdy nylon material, most comparable to a seatbelt, which gives you an idea of the reliability you are in for. This security extends to the Peak Design V4 Anchors and Anchor Mount, meaning your actual connection to the camera is never a source of worry.
What can be said here? What does one want out of a sling strap? Comfort, lightness, durability, and ease of use? It's a resounding success across all metrics. It does everything you need it to do well, and nothing you don't need it to. It's a can't miss option.
As an added bonus, visiting Peak Design's website will lead you to the company's other offerings, such as the Slide/Slide Lite and the Capture, which are not included on this list but have every right to be. In truth, you could source every single strap need you from Peak Design. Every strap is individually great, but if you want a total ecosystem for all your strap needs, Peak Design is almost unparalleled.
Available for $40 from Adorama.
9. SpiderPro Camera Holster
Try as some photographers might, a strap just never really works out for them. They just can't seem to find one that rests comfortably on their body. There's absolutely nothing wrong with that, so we'd be remiss if we didn't include an alternative option on this list. For those who are seeking a solution to this issue, the SpiderPro Camera Holster is a real winner. Heck, even if you are a committed strap user, there is much to love about SpiderPro's system.
The simplest way to describe the SpiderPro Camera Holster is "What if you had a tool belt that had a spot for your camera?" If that sounds appealing to you, you are in the right place. The holster is designed so that your camera's lens is always pointing to your rear. While this may seem counterintuitive, ergonomically it is the right choice. Bending, squatting, and turning provoke no awkward friction with this design.
Pulling the camera from the holster is simple, requiring you to only angle it up and away from your body in a quick-draw motion. The holster is a self-locking mechanism that, when selected, gives you all the confidence you need that when your camera is at your hip, it will stay there. There is a Lens Collar Plate for those using longer glass, and it does a great job of balancing your camera securely without placing undue pressure on the mount.
This is a truly versatile, modular creation. Options for additional accessories here are vast. The most notable is the high-quality leather hand strap, giving you security not only when holstered but when you finally get the camera in your hand to go to work. Attachments for water bottles, smartphones, lens pouches, and more are on offer, truly living up to the tool belt design. The system works with dual wielders as well, giving you the ability to keep a camera at each side with the same level of comfort and confidence.
If you are a photographer who tires of adding any strain to your neck or back and want something that feels truly utilitarian and sturdy, the SpiderPro Camera Holster is right for you.
Available for $120 from Adorama.
10. Think Tank Camera Strap V2.0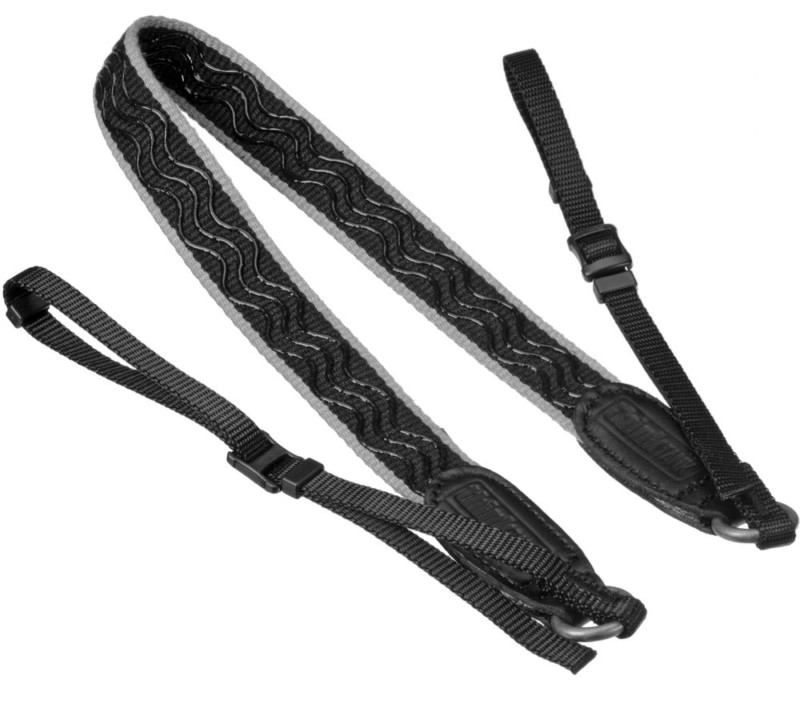 If you are looking for a cost-effective, unobtrusive, straightforward strap, the Think Tank Camera Strap V2.0 is a solid option. There is very little that is remarkable about this strap, which is, in a way, what makes it a perfect option for many photographers.
The best way to describe what Think Tank has done here is that they have put a lot of thought into you not having to think. This thing just disappears onto your body and does its job. The V2.0 is slim, only a single inch wide — so you won't have to think about it. It is strong, poly-spun with 3-ply bonded nylon thread — so you won't have to think about it. It is specifically designed for maximal compression, fitting without unwanted bulk in any bag — so you won't have to think about it. Both sides of the strap have grip, meaning you can sling this thing on in a hurry and it'll stick — you get the idea.
Affordable, tough, and low profile. For extended use, you may wish you had a pad or two, but that's not the design's goal here. This is a "get in, get the job done, and get out" sort of strap. Perfect for photojournalists or travelers who want something to whip out when sightseeing, then quickly stow during lunch.
Even better, if you do find yourself wanting more out of it, it works magnificently with Think Tank's backpacks and harness systems. For on-the-go photogs, the V2.0 is a great choice. As the starter piece in a whole set of accessories, you will be incredibly pleased.
Available for $29 from Adorama.
---
So there you have it — PetaPixel's picks for the best camera straps you can purchase right now. There are a wide range of high-quality straps in the world of photography, though, so it is a good idea to go hands-on with a number of different straps at a camera store to see which design and material works best for you and your photography needs. A good camera strap will not help you shoot better photos, but it will help keep your camera safe and help you shoot more comfortably for longer periods of time.