Wedding Photographer Divides Internet with 'Safety Shot' Technique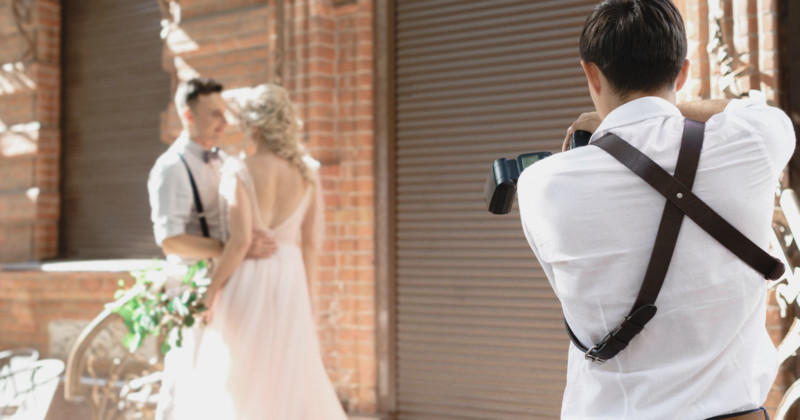 A wedding photographer has divided the internet with his "safety shot" which involves removing family members' partners from a group shot in case they break up in the future.
Wedding photographer Adam Lowndes went viral when he shared his "safety shot" technique in a TikTok video last week.
In the clip, Lowndes takes a group photograph of the bride and groom with their immediate family and their respective partners.
After getting the group shot, Lowndes is heard saying, "Right, safety shot, step off for us mate." The photographer then gestures toward the partner of the sister of the bride and asks him to step out of the frame.
The group is heard laughing as the bride's sister's partner leaves the photoshoot. Lowndes gets the family to reshuffle for the safety shot and he captures the photo.
In a caption for the TikTok video, the photographer explains that he removed the bride's sister's partner from the shot "just in case" the pair split.
Controversial
Lowndes's video amassed over 5.5 million views and his safety shot technique divided social media users. Some viewers dubbed the strategy "smart thinking" by the wedding photographer.
Another TikTok user praised Lowndes's safety shot and said that the technique should be "normal practice" among wedding photographers.
However, others said Lowndes's safety shot technique could be interpreted as rude and potentially upsetting to the excluded individual.
Several users remarked that they "would cry" if a wedding photographer asked them to leave the shot.
"There are better ways of handling that situation," another individual comments.
An 'Important Technique'
In a follow-up video, Lowndes, who has been a wedding photographer for thirteen years, responded to TikTok users who criticized his safety shot method.
When asked why he did not add individuals instead of removing them from the portrait, Lowndes says it is simpler to start with a larger group and scale down. It also means "no one can go missing to the bathroom or anything like that."
He also says that the bride's sister's partner was not offended by his request.
In an interview with Insider, Lowndes explains that he picked up the "important technique" during a wedding in Wales, U.K..
"I politely asked all the partners to leave the shot so I could just get the close family," Lowndes recalls.
"I got a message from the bride the next day telling me how great things had gone and how she really appreciated all I did including removing her brothers' girlfriend as they broke it off that night."
---
Image credits: Header photo licensed via Depositphotos.