The Best Instant Cameras in 2023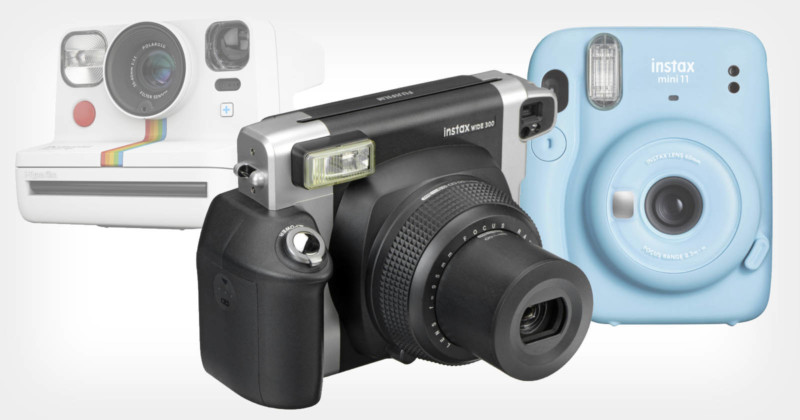 While visiting a friend recently, I noted that his teenage daughter's walls were lined with Polaroids of her and her friends. I expressed some surprise and inquired about what got her interested in instant photography. She tilted her head and smirked at the question, and I soon understood why. The term "instant photography" struck her as curiously redundant.

With the rapid acceleration of digital photography and the resulting ubiquity of cell phone cameras, we now have an entire generation of photographers, some of whom are now old enough to sit at a bar with a strong drink and contemplate the direction of their lives. For these lensfolk, the space between capturing an image and admiring it has never taken longer than it does to blink. For many, an image is born on a screen and will live the entirety of its life encased in one. But many youths, like the daughter of my friend, have begun to pine for days they never got to experience themselves. Days when a click would yield not pixels, but a print.
Instant photography has never been more popular. More and more, young photographers are learning the weight, physical and emotional, of printed media. They are waking up to the unique charm of photochemical reactions their Instagram filters can only dream of recreating.
What We're Looking For
While instant photography never truly died, the renewed explosion of interest since the introduction of Fujifilm's Instax film has yielded a glut of choices in the market. Features, form factors, and end results vary interestingly and widely from camera to camera, brand to brand. It can be difficult to determine which is right for you, so we have selected our options for what we believe to be the best instant cameras for a variety of photographers, or key interests they may have.
At a Glance
Best Overall Instant Camera: Fujifilm Instax Wide 300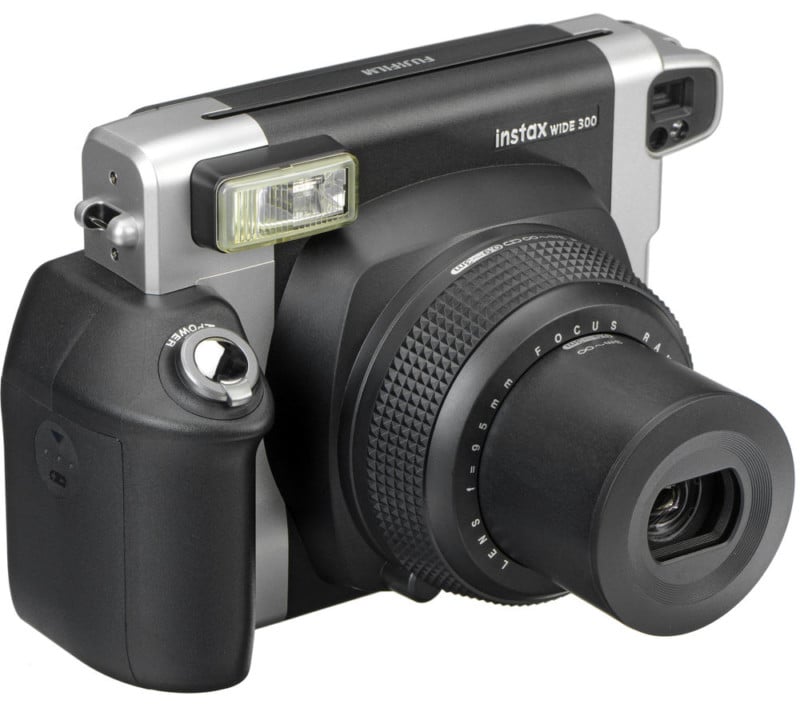 There are several metrics to consider when selecting an instant camera. Film size, price, cost and availability of film type, quality of final image — all are worth discussion, certainly. At the end of the day, though, this is the one camera where you have permission to consider them all secondary to simplicity and, well, fun. And the Fujifilm Instax Wide 300 is, first and foremost, simple and fun.
The Instax Wide 300 lacks some of the more complex features you will find elsewhere on this list, but in terms of sheer usability, it is hard to top. While its larger build could be viewed as a demerit for a camera like this, its beefy grip, optical viewfinder, and 95mm prime lens confer cohesion and integrity that some flimsier and tinier instant options lack. The size is most justified, however, by the final product. The Instax Wide 300, as you may have guessed, uses Instax Wide instant film. At 2.4 x 3.9", it is a larger format than you may find elsewhere — 2.2x the size of the more common Instax Mini.
The 95mm f/14 lens is nice, offering a wide field of view comparable to roughly 35mm in full-frame equivalency terms. The focus options are decent, though not extensive, with a choice between 0.9 meters to 3 meters or 3 meters to infinity. Included with the camera is also a clip-on macro attachment capable of getting you even tighter shots, bringing the focus down to 0.4 meters (1.31 feet). Exposure controls are the weakness, relegated to merely flash and a brighten/darken feature, but this can largely be overcome with a little care and awareness of shooting conditions.
Overall, it's an all-around good instant camera that doesn't stumble — it is consistent across the board. It's solid to the touch and dead simple to use, producing impressively sized images full of character and whimsy. This list has several other cameras that are more option-rich, but as an amalgam of price, accessibility, handling, photo quality, and ease of use, the Fujifilm Instax Wide 300 impresses.
Best Professional Instant Camera: MiNT InstantKon RF70 Rangefinder
The instant camera resurgence may be driven by kids and younger folks enamored by the retro appeal, but instant film as a medium still has ardent support among a niche group of working pros. There are emotions an artist can evoke in the format that are impossible to replicate elsewhere; a unique photochemical alchemy that makes an instant photograph special. Fortunately, there is a company out there dedicated to that market and consistently works to push it into new spaces.
We could have easily classified the MiNT InstantKon RF70 as the most interesting camera on this list and left it at that. While Fujifilm and Polaroid may dominate with stable (if somewhat unexciting) options, MiNT seems genuinely engaged in bringing something unique to the instant camera space. But they aren't content to stop at curb appeal — this camera screams quality like no other instant camera on the market and you'd be forgiven for not realizing it's an instant camera.
The MiNT InstantKon RF70, like the Instax Wide 300, makes use of the Instax Wide format film while allowing the user full manual control over the image. By full manual control, we mean the real deal: an actual shutter speed dial ranging from 1 second to 1/500, and the 93mm f/5.6 Mintoptic Aspherical Glass lens features a physical aperture ring with click stops at f/5.6, f/6.7, f/8, f/11, f/16, and f/22. For those interested, using the lens wide-open results in an approximate full-frame equivalent field-of-view of 35mm with an f/2.4 depth-of-field equivalent.
Focusing is accomplished through the 0.44x magnification viewfinder via the camera's rangefinder mechanism. And this isn't some sort of faux rangefinder simulation — it is a true mechanical linkage. Rangefinders do come with a level of complication (primarily a learning curve) for most, but for professionals, it is no great hurdle. For many, a rangefinder is even ideal.
The InstantKon RF70 comes with a 93mm f/5.6 lens that produces truly stunning bokeh. Creamy, dusky, it carries an intangible quality you must see to understand. At f/5.6 the lens is best described as simply good, but unlike most other instant cameras, the InstantKon can be stopped down! By f/8, the lens becomes easily the sharpest, most transparent lens I have ever seen on a modern instant camera, besting even the results from the legendary Polaroid SLR 680 and 690 cameras.
Let's quickly run down the rest of the highlight features: a built-in flash, LCD display with manual shooting tips, standard 1/4" tripod socket, threaded shutter button for standard cable releases, B or T modes for up to 10 minute long exposures, and a 2.5mm audio jack for triggering external studio flash. Oh, and did I mention the included five-year warranty? Not only do you get that — something virtually unheard of, at least in the United States — but you can extend your warranty every year for an additional year either by purchasing the MiNT Care Plan for $39 or three packs of Polaroid film plus $20. Upon purchase, you will be welcomed into the MiNT VIP Membership as a lifelong member, enjoying discounts on various products and priority access to repairs, limited products, and exclusive offers.
As with anything, not all is roses: construction is acceptable but does instill a need for caution. Disappointing for a camera of this price, the construction is plastic and without any weather sealing. A strap is a necessity, as I certainly wouldn't want to crack this near-masterpiece (especially after dropping $900 on it).
To make things even more dispiriting, for all the control the camera places in your hands, you will be unable to use any of your standard filters on the lens. Instead, you will be required to utilize those produced by MiNT — so far, they only offer a set of neutral density filters (ND2, ND4, and ND8), which will run you a cool $98 for the trio. If you want the lens hood, get ready to pony up another $60. The best deal, should you desire any of these accessories, is to buy the InstantKon RF70 Ultimate Package — in addition to the camera, you get the ND filter set, hood, genuine leather MiNT neck strap, and two packs of Instax Wide film.
In truth, I could easily double the already lengthy word count I've devoted to this camera, and that alone speaks to its special nature. If you have the money, and you are serious about a truly unique piece of kit (and I mean that quite literally — it was the world's first fully manual Instax Wide camera), then the MiNT InstantKon RF70 deserves your attention. The images this camera produces are truly ethereal. It is arguably the most exciting instant camera for those truly dedicated to the medium.
I really need to stop writing these guides. I feel like my credit card is about to suicide into the shredder as a precaution.
Best Budget Instant Camera: Fujifilm Instax Mini 11
The vast majority of people seeking instant cameras, it must be acknowledged, are not looking to make a considerable investment. They are essentially chasing the novelty of the format. For them, good enough is plenty good enough. The eventual results are intended as a keepsake, with the format itself holding as much importance as the image it contains. The Fujifilm Instax Mini 11 is, for these users, the perfect affordable, entry-level choice.
This may sound like damning with faint praise, but nothing could be farther from the truth. The Mini 11 produces superior images to its immediate peers, produced on the most popular and accessible instant film format, and is by far the easiest-to-use in its class. It features true automatic exposure, and its lens uses glass elements, all while weighing less than a pound, but for the target demographic, we expect the fun Selfie Mode and variety of kicky color choices to be far more exciting.
Given that flash is always on, overexposure issues will occur, but for a teen who wants to crank out affordable pics to adorn the mirror over their dresser, one who wants to fit a memory in their wallet without emptying it, the Instax Mini 11 is the perfect camera.
Most Versatile Instant Camera: Lomography Lomo'Instant Wide
Virtually no other instant camera on the market affords as many features, accessories, or settings as the Lomography Lomo'Instant Wide, which essentially guarantees it high marks on any list. With image quality competitive with the Fujifilm Instax Wide 300, but packing far more under the hood, this is an attractive option for consumers who want an instant camera that offers maximum control without venturing into the professional space.
What sets the Lomo'Instant Wide apart is its commitment to control, and this extends to the lenses themselves. Yes, lenses plural. The built-in 90mm f/8 (a 35mm equivalent on a full-frame camera) is manual focus and performs admirably, but Lomography knows some shooting circumstances call for a different perspective. As such, The Lomo'Instant Wide lives up to its name, offering an impressive wide-angle lens with three zone-focus settings (0.6 meters, 1-2 meters, and infinity).
How about close-ups? This is where the macro lens comes into play, allowing you to get a mind-blowing 4 inches away from your subject. Finally, there is the Splitzer, used alongside the camera's multiple exposure feature, which blocks a portion of the frame.
The Lomo'Instant Wide makes use of an ambient light meter to handle its automatic exposure — along with exposure compensation options of -1 or +1 EV by way of a switch — and it performs admirably. As with most instant cameras, exposure is tricky in certain conditions, but this is where some of the finer features shine. It's possible to manually set the shutter speed to 1/30, which is of considerable benefit.
Also present is a Bulb mode, allowing you to keep the shutter open as long as you hold the button. There's even a PC sync socket that bestows users with the ability to employ anything from a single, basic speedlight to an entire studio flash setup.
The build is chunky, though this is a plus in this writer's view given how seriously this camera takes itself and performs. Nonetheless, it can't compete with the tinier instant cameras on the market for portability. Price is higher than some others on this list, but there's some solid logic that the camera is worth every dime.
The Lomo'Instant Wide truly does fill a sweet spot between a basic snap-and-go and a piece of semi-professional gear. It belongs on any list of the most impressive instant cameras you will find. It also, frankly, looks damn cool.
Best Classic Instant Camera: Polaroid Now+
There is only one brand that so instantly evokes the idea of instant photography, so much so that the company's name became synonymous with instant photography itself. Of course, we are talking about Polaroid.
It's undeniable that most users of instant cameras were drawn to them out of either nostalgia for their own past or a yearning to experience a cultural staple that predates them. There's just something about the iconic, almost robotic form of a classic Polaroid camera — specifically, the highly popular and very cheap Polaroid Integral 600 series of the 1980s and 1990s.
In practice, these cameras could be more awkward than we like to let on, but when the flash pops and the image emerges — almost as if the camera has a mouth designed to spit out memories — it just feels right. For those looking to recapture, or discover for the first time, that old-school instant photo experience, the biggest name in the business still has much to offer with the Polaroid Now+. (It should be noted that the original Polaroid Corporation was declared bankrupt in 2001, with the brand and intellectual property being acquired in 2017 by The Impossible Project, now known once again as Polaroid)
Building on the success of the Polaroid Now, the Now+ continues to modernize the old format and does so in a more rounded, modern, but same instantly recognizable form factor. Bluetooth connectivity allows the user to link with a Polaroid app on their phone, which opens nice additional options like double exposure, long exposure, aperture priority, and full manual control. It also acts as a remote shutter release. A particularly welcome feature is the portrait assistant, guaranteeing you can get the camera the right distance from your subject for the effect you desire.
The camera comes with a set of fun filters that yield interesting results. There are color filters (yellow, blue, and orange) that can be used to tint your color photographs or manipulate luminance values in your monochromatic snapshots. At first glance, you might think the included red filter works similarly, but look closely and you will notice its clear center, creating unique vignetting opportunities (tip: use this with monochrome film for some awesome results). Finally, there is a starburst filter, providing a nice little twinkle effect on lights and a dreamy Glamour Shots softness on the subject.
For all the modern upgrades and arguably frivolous add-ons, this is at its core a good, old-fashioned, functional Polaroid camera. Controls are simple. A screw mount for a tripod provides an option far too many competitors too frequently ignore. An internal battery powers the device. An extremely welcome opaque black sheet covers each photograph as it ejects to shield against sunlight (hint hint, Fujifilm). Film stock (Polaroid i-Type) is varied and always available. You really cannot miss with the Polaroid Now+. It is exactly what you want it to be.
If the camera has any drawback, it is in its color reproduction. The Polaroid Now+ will not give you images as true to life as many of the others on this list — it's also truly a consequence of the film itself and not the camera. Either way, it is difficult to consider this much of a demerit, however, when looking at the images the camera does produce. There is no better way to say it than this: they look like Polaroid instant photos. The character the Polaroid brand name possesses extends far beyond how the camera looks — it goes right into the final product. Square. White-bordered. Dreamy, dusty, a little wrong in all the right ways. There's a reason people just say "Polaroid" when they really mean "instant camera," and the Polaroid Now+ continues to prove it.
Best Instant Camera for Kids: Dragon Touch InstantFun2
We recently wrote about the Best Cameras for Beginners, and if you have a budding shutterbug of your own, you should definitely give that article a look. Instant cameras weren't a good fit to include in that guide, but it is undeniable that for the youngest of the pre-adults, the satisfaction of pressing click and immediately having a tangible photograph is too joyful to leave overlooked for long — the extraordinary sales of Fujifilm's Instax cameras and film is all the proof you need. So, we want to give a special mention to the Dragon Touch InstantFun2, a camera specifically created for young children.
The whimsy of this camera is evident right out of the box when you see the cute cat-ear design that tops the body, and the commitment to a child's fun only becomes more evident when you realize the camera comes with markers and stickers to decorate the device. Usability is exactly as intuitive and simple as it needs to be for the target audience, with the camera featuring only five easy buttons to do all they need to do. On the back, there is an LCD screen showing your child what they are about to shoot. It is frankly impossible for this to be any easier to use.
Of course, the image quality here is not going to rival any other option on the list, as you might expect. The camera prints its images onto thermal paper which spits out the front and can be torn off. These are not photos to cherish for the rest of one's life, they are instant gratification, suitable for refrigerator space or thumbtacked to a bedroom corkboard. The InstantFun2 is a digital camera with the ability to print onto thermal paper, so you can easily get the photographs off and onto a computer, if you really want — though you likely won't, since the quality is more equivalent to your first Nokia smartphone than anything else. But hey, it also does video.
At this point, this entry may confuse you, given how weak a camera this truly is, but again, this is a recommendation for the youngest of the young. From my experience, Dragon Touch's claims of being designed for ages 4 to 11 seem to stretch it. I would think that by age 9 most children would want and rightly expect more (At that point, give a serious look to the Fujifilm Instax SQ1). But for a no-hassle, all-fun experience for those nearer to kindergarten, the Dragon Touch is kind of special. Between its printing, digital, and video capabilities and its playful form factor and easy-to-understand controls, it could be a lot of fun as an all-arounder before trusting your kid with film replacement and handling.